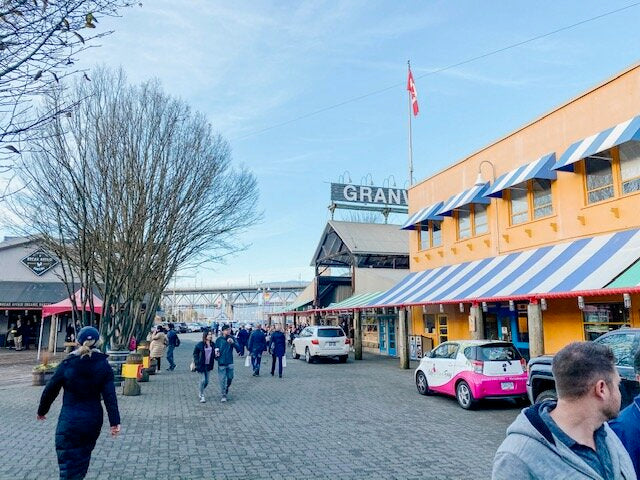 Vancouver
Hey! I'm Savannah, momma to our growing family of 6 and the face behind "That Caffeinated Mom". When Jay and I decided we wanted to have a bunch of kids, we discussed how we were going to make that work and how we wanted our life to look. We knew that realistically lots of far travel and vacations were likely not going to be an option for us with a large family. So we started traveling within our home and neighboring cities, and it was the best thing we ever did. 
We live in White Rock British Columbia, so we have tons of cities surrounding us to explore. But our favourite has to be Vancouver. Vancouver has a really great transit system that makes it really accessible, and for our kids riding the Sky train is half the fun of the adventure. There are so many different activities and areas to be explored depending on what part of Vancouver you end up in that it makes it hard for me to choose a favourite. But when push comes to shove I have got to say our favourite stay-cation is going to the Aquarium, Stanley Park, and Granville Island. 
The Vancouver Aquarium, Stanley Park, and Granville Island are all transit accessible if you combine the Sky train with bus routes and all in neighboring areas of each other. My favourite part about these three locations is that they each can be a full day adventure or a short and quick visit. 
The Vancouver Aquarium is family fun for everyone. There are tons of different exhibits with lots of information along the way to keep the whole family interested and entertained. If you're lucky, you can catch one of the shows outside with the dolphins, penguins, otters or seals (personal fave is the penguins. How can you not love penguins?!). One of the many reasons we love the aquarium is because they have an animal rescue program where they will rescue and rehab any marine wildlife. (Please note; The Vancouver Aquarium is a rehabilitation centre that does not train their animals for show.)
Next stop, Stanley Park. The aquarium is actually located in Stanley Park making it really convenient to visit both stops in one day. Stanley Park is an incredible place for all ages. Some awesome places to hike, or ride your bike but also lots of activities available like horse drawn carriage rides or the tourist trolley ride. In the summer they have an awesome public pool to swim in and in the holiday season they have lots of holiday activities like the mini train that goes through the park looking at a mini light show! Not to mention the most stunning sights and views from the park itself. And how could we miss the seawall! Walking the seawall around the park is something that the entire family will enjoy. 
Finally, Granville Island. As a family, I have to say this is likely our all time favourite place to visit. In essence, Granville Island is a giant market with tons and tons of tiny shops each with their own vibe and unique story. They have a classic broom shop, they have art studios, they have a handmade hammock store, they have psychics, the variety shocks me everytime I visit. They have the market which is our all time favourite place to eat! We walk through all the vendors and try to pick something new every time. We then take our food and eat by the pier out back of the market. And the most exciting stop of all, they have the Kid's Market. A brightly painted building filled with kids activities. From specialty toy stores to an arcade and a giant play area (oh and did I forget bumper cars??). Our kids could spend HOURS in there, just walking through. One of the best parts about Granville Island for us is that you can go there for free and spend as little or as much as you like! It is so much fun just walking around through the amazing shops and listening to the live music you don't need to spend money if you don't want to. 
Vancouver is an incredible place to explore and visit. With adventures and surprises at every turn you won't run out of things to do or places to explore. But I want you to remember you can do this in your own home and neighbouring cities. If you don't have the luxury of travelling often whatever your situation is, don't forget to explore your own backyard and remember that sometimes stay-cations can be as great as a full vacation!