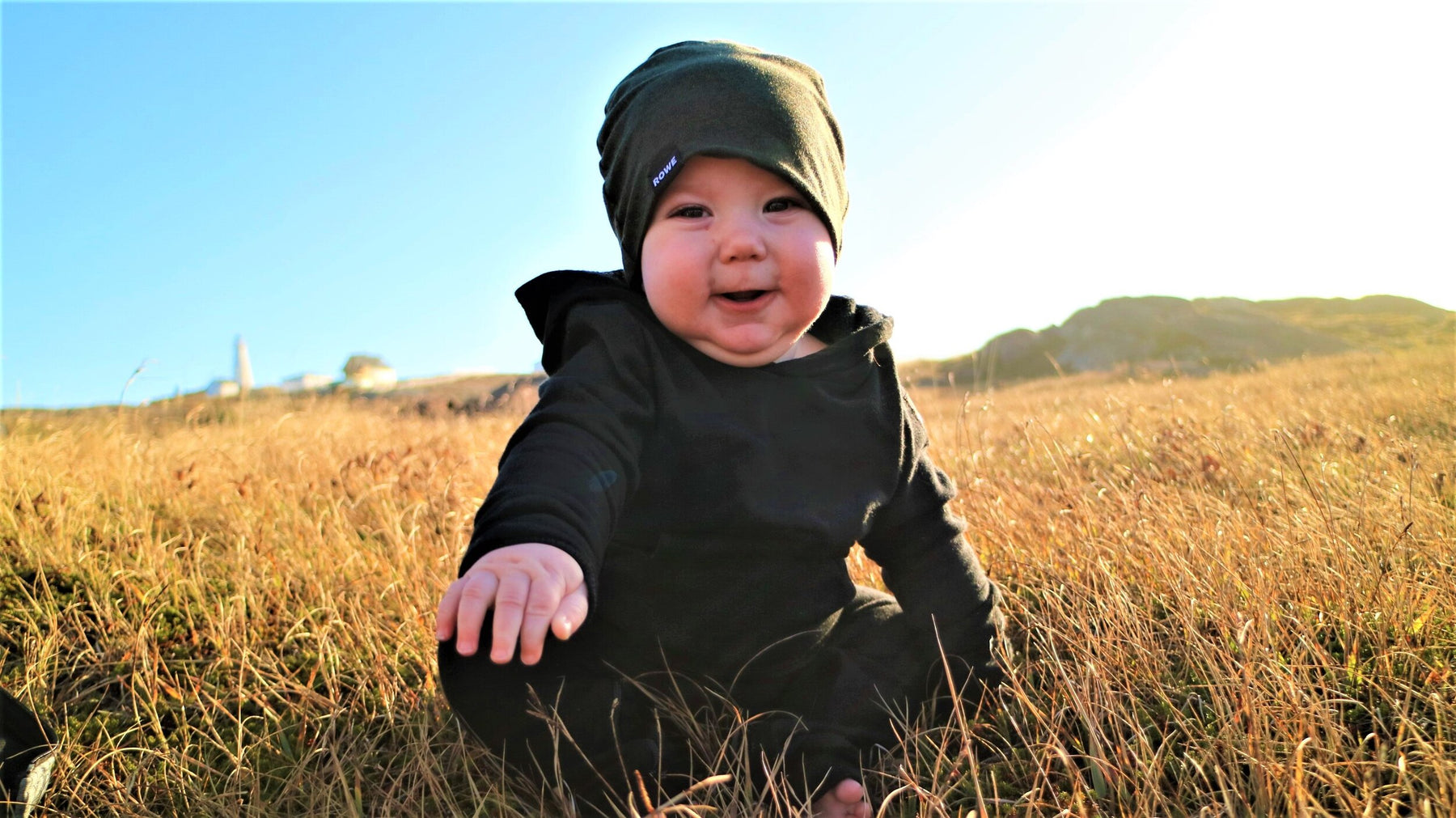 Newfoundland
When my husband Eric and I met eight years ago, we immediately bonded over a mutual desire to travel the world. This aspiration grew even stronger when we had our first child, Lucy, as we wanted to share our love of exploring with her. Lucy took her first trip to Newfoundland when she was only three months old. Since then we have visited there two more times, including this past October (We have also taken Lucy to Australia, St. Lucia and Mexico, twice.) This trip to Newfoundland was extra special, as it was our first vacation as a family of four. Travelling with two children brought about a new travel experience but thankfully I have learned a few travel tricks along the way that made the process so much easier. 
Travel Tips:
Here are a couple of travel tips to help make your family travels a breeze.
Always take your stroller to the gate. You may think that packing up your stroller just before you get on the plane is a bit of a pain but seriously, having your stroller as soon as you get off the plane and while going through the airport is the best! Not even just for carting your littles around but for all the stuff that comes along with them (and us). 

Bring a pillow on the plane. I'm not talking about the typical neck pillow; I mean an actual bed pillow. This has been a lifesaver for me when travelling with a baby. Your lap instantly turns into a bed for baby, giving you a little freedom and your arms a much-needed break.

Bring your toddler's car seat on the plane (two years and up). Your toddler is already used to their car seat and therefore it gives them a sense of familiarity in the situation. On top of that, your child is more likely to happily sit in their seat longer because they are already used to doing so in the car. Here's an extra tip to go along with this: Send your partner on the plane with the car seat during the pre-boarding and keep the kids with you until the end. This way when you get on the plane with your children, they don't have to wait as long and you can get them settled into their seat right away. 

Bring a new book. Having a new novelty book that your child has never seen before ensures you at least a little distraction time. For babies under 18 months, I always buy a lift-a-flap book and for toddlers 18 months and up, I buy a sticker playbook. 

Pack a mini diaper bag. I figured this one out after our first trip to Newfoundland. Plane bathrooms are small and there just isn't enough room for your full-size diaper bag. So now I prepare a mini version in a ziplock bag. Keep it minimal but efficient. I usually pack two diapers, a small pack of wipes, a changing mat and a thin sleeper. When you get on the plane, place it in the seat pocket in front of you for easy access.
REST
Over the years we have stayed in some awesome Air BnBs during our trips to Newfoundland. From the Iconic Jelly Bean Row Houses to modern condos, St. John's has it all. This trip we decided to go the hotel route mainly for the pool fun. We stayed in the newly built Best Western Hotel that is right next to the airport and included a great pool, waterslide, hot tub and complimentary breakfast.
PLAY
I am originally from Newfoundland and one of the things I took for granted most while I lived there was the astonishing landscape. From the ocean, cliffs, rugged forests and rocky terrain, the countryside is one big outdoor playground. Cape Spear is the perfect place to take in the beauty of Newfoundland, giving you a breathtaking view of where the ocean meets the cliffs and it is a quick 20-minute drive from downtown. My 2-year-old spent over an hour happily maneuvering the countryside, while the rest of us took in the intense ocean waves and the lighthouse. 
When the weather isn't ideal, there are lots of indoor play destinations for your family to explore while staying in St. John's. Our favourite indoor space is The Rooms, a modern art gallery and museum with lots of child-friendly exhibits and a nature pod activity center. My daughter was delighted with the selection of life-like animal toys in the nature pod and quickly settled into colouring a picture of the same animal she had chosen to play with. 
EAT
When you think of Newfoundland, you probably don't think of it as a foodie destination but that needs to change. Newfoundland has endless amazing places to eat and the food rarely disappoints. After two overnight flights, we were craving a good home-cooked meal and headed straight to The Bagel Café, one of my favourite family-friendly eating joints in Downtown, St. John's. They serve home-style traditional Newfoundland food that makes me feel like my Nan cooked it up. The Bagel Café is a small, eccentrically decorated eatery that resembles a museum with knick knacks everywhere. They were super accommodating when we walked in with our double stroller carrying a sleeping toddler and were great at ensuring our dietary restrictions were met. It is a must-go when you are in St. John's.
No trip to St. John's is complete without a trip to the iconic Signal Hill. My daughter and I took a quick trip to the top to take in the ocean one more time before we left. Overlooking St. John's Harbour, It was the perfect way to end our trip. I could write about the reasons to visit Newfoundland forever. I have just highlighted the tip of the iceberg of this amazing destination, focusing on the capital city of St. John's. Newfoundland is full of marvellous tourist attractions and if you are planning a visit I would highly suggest exploring Belle Island, driving The Heritage Run and taking the ferry to St. Pierre and Miquelon. Yes, it is a part of France! Stopping by the town of Dildo and enjoying their brewery and discovering the remarkable Gros Morne National Park. We are heading back to Newfoundland in early Spring to take in more of it's natural beauty, with particular hopes of seeing whales, icebergs and catching Lobster Season!